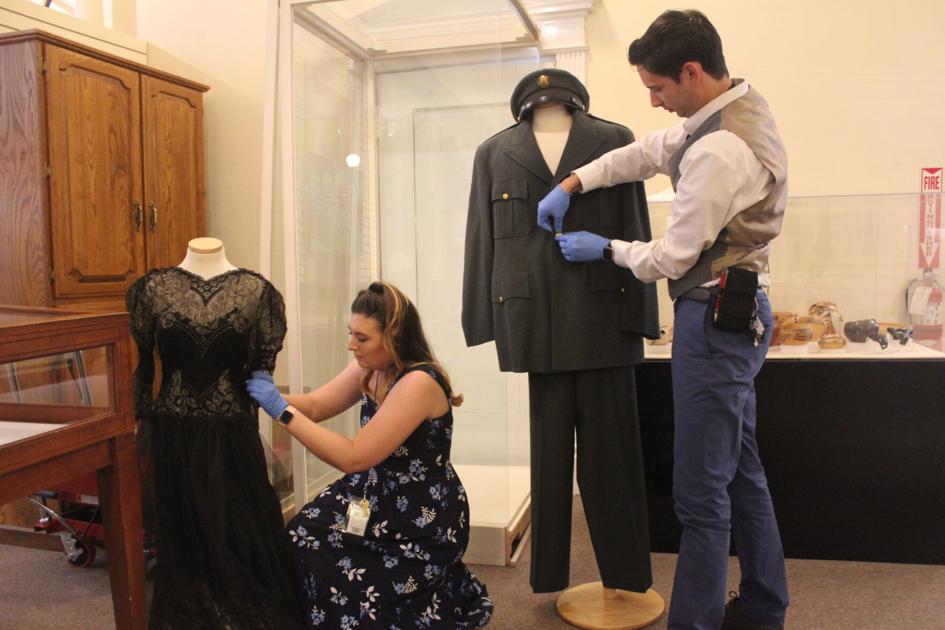 Joy and anticipation has stirred the collective hearts of the Layland Group lately for several reasons.
"We mainly want everyone to know how excited we are to be reopened to the public," said Layland Museum Director Stephanie Montero. "I want everyone to know that we are here and that a lot of great new things are on the way. "
The main one is the arrival of two new faces.
Nicholas Hefner, previously involved in the renovation of the Cleburne Railroad Museum, has been promoted to museum assistant, a position that covers both Layland and the Railroad Museum.
"As a museum assistant, instead of just taking care of the rail aspect, I also help with Layland operations, finance, coordinate events," Hefner said. "Basically, help Stéphanie with everything she's working on and everything that needs to be done"
Montero also announced the hiring of Priscilla Schubert as Layland's new educator.
"It's my job to create programs to connect the community to the museum and the artefacts here," Schubert said. This includes planning our calendar and what events we will be hosting, as well as working with other city departments and downtown businesses to provide events and activities for everyone from kids to adults. We want everyone to come and experience all the great things we have to offer here. "
Hefner attributes his love of the railroad to his father.
"My dad and I traveled the country chasing trains," Hefner said. "He's a model railroader, so I got into this through him and I have a lot of Lego trains. I have always been fascinated by railways and history, and helping to [Cleburne Railroad Museum] gave me a reason to immerse myself in it more than a hobby.
Hefner's passion for trains remains, but he is also eager to tackle additional tasks related to the Layland Museum.
"Something I loved when I was young was the 'Mysteries at the Museum' TV show," Hefner said. "It fascinates me to see how artefacts, sometimes small artefacts, can tell some of the biggest stories and have so much meaning. It's something that I love about museums, that the exhibits and the objects contain such huge stories.
Schubert previously taught history and other subjects at junior high and high school.
"I discovered my love of history in high school and have been passionate about it ever since, especially American history," Schubert said. "My husband's family is from Cleburne, so I was very excited to see the educator position open here and very happy to be here.
Schubert said she looks forward to delving into the local history of Cleburne and Johnson County.
"I love the variety that Cleburne offers," Schubert said. "You have the story of the Civil War that goes on into WWI, WWII and so many other aspects. I like that the Layland isn't limited, it encompasses so much.
Schubert, Hefner joked, probably learned more about railroad history in her first month and a half on the job than she probably imagined.
The past few months have also been a learning experience for Hefner.
"I knew a lot about the rail aspects of Cleburne, but not so much about the other aspects of Cleburne's history," Hefner said. "So these were a lot of fun to learn. That's what I love about this job is that every day is different. Every day while working here I learn something new or try something new.
Montero said she was delighted to have both on board.
"Absolutely thrilled to have them both here, especially as we prepare to have recently reopened and so many projects to come. Nick and Priscilla both brought so much energy and are already a great team. They are both smart and creative and I can't wait to see what they bring to the museum. They both love the story and think it's fun and I think their passion and energy is going to bring new synergy and dynamism.
Library programs for now are largely in conjunction with the Cleburne Public Library and other departments in the city, but museum and history buffs in the area are urged to save their hats and look. prepare for the wave of activities along the way.
Last year's COVID-19 shutdown, coupled with ongoing museum projects, has slowed this wave significantly in recent months.
"In 2022, we will return to normal schedule and activity," Schubert said. "January 2022, we are ready to go. "
The renovation and expansion of the Railway Museum also took up a great deal of staff time.
"We're getting there," Hefner said. "We're slowly starting to see the new museum take shape and emerge and for me that's the exciting part, to see all of these plans we've been discussing for so long now finally starting to materialize and come true."
The recent installation of new facade signage at the railway museum also delighted residents, Montero added.
"Since these have increased, we have received a lot of calls from people asking for information about the railway museum and when it will reopen," Montero said. "Also, the new sign really makes the facade of this building stand out, I think. "
No firm date has been announced, but the railway museum is expected to reopen later this year.
"We'll have a grand opening, of course," Montero said. "Another thing that hurt us was that we used the room in the old Railroad Museum building for a lot of our programs and activities. With renovations underway, this space is obviously not available. The good news is that once the renovations are complete, this room will have a full audiovisual installation, a camera that lowers, a sink for arts and crafts activities, a storage space. storage for chairs and tables etc. It will be really cool and it was designed to be used for programs for both Layland and the Railway Museum.
For now, "On the Right Track" continues at Layland. The free exhibit includes railroad memorabilia from the old railroad museum as well as several new additions.
"It was a popular show and a good one for us too," Montero said. "It allowed us to work and come up with ideas on how to plan the layout once the new railway museum opens. This is another reason why I am so happy to have Nick and Priscilla here. Soon we will reach the point of moving items from storage to the new museum and this is going to be a gigantic job and I will need a lot of help.
"One of the first things Priscilla is working on is putting together a full list of programs before the railroad museum opens," Montero said. "We want to be able to get this list out to people while they're at the opening and let us know about all the things we have to come."
Hefner and Schubert said they were ready to go.
"We are excited about everything to come, we are already working on many plans for things to come," Hefner said. "For now, we're just happy to be back open, back in the community, and we're thrilled."
Montero agreed.
"Right now, probably 90% of our time is spent renovating," Montero said. "It's going well, but we're all impatient. It does not matter. Once that's done, we won't remember that part. We will just be delighted to have our new museum and all the wonderful things in it.
The Layland Museum is located at 201 N. Caddo St. For more information, call 817-645-0940 or visit laylandmuseum.net.