Repairs are underway on a section of the White Oak Bayou Greenway trail in the Oak Forest area, according to the Houston Parks Board and the Houston Heights Association (HHA).
Citing the parks board, the HHA wrote in a Facebook post Thursday that the US Army Corps of Engineers was planning to make repairs related to a sinkhole that had developed upstream of West 34th Street, where the trail passes. under West TC Jester Boulevard. This part of the trail as well as the adjacent concrete slopes above and below the trail are unstable, according to the post, and the area has been barricaded with fences and orange signs.
A detour has been established for trail users, who must use the sidewalk along 34th Street between West TC Jester and East TC Jester Boulevard as well as the sidewalk along West TC Jester.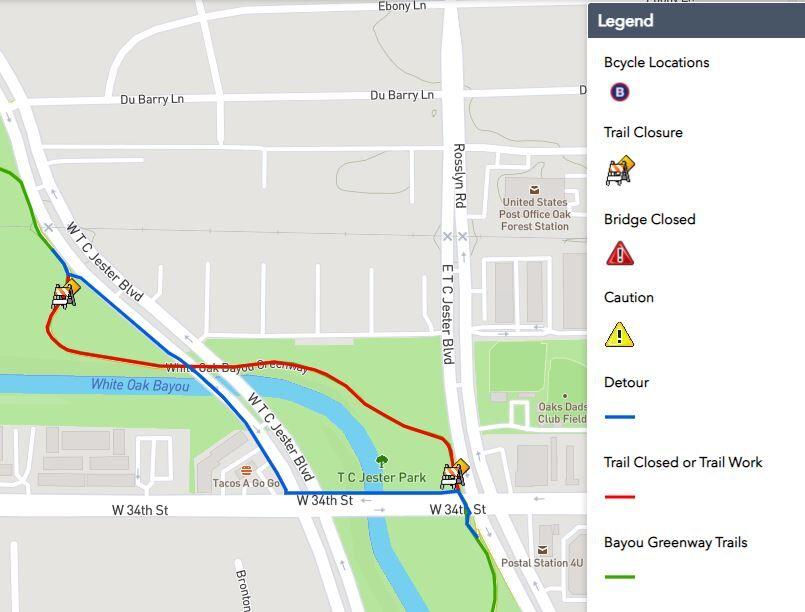 An illustration of the project area and the detour can be found here.
A spokesperson for the parks council said on Friday that repairs are expected to begin in August and should be completed within 60 days of the start of repairs. Once repairs are complete, the trail will be replaced by the US Army Corps of Engineers, the spokesperson said.
The leader contacted the US Army Corps of Engineers for more details on the project and expected a response Friday afternoon. More details will be reported when available.