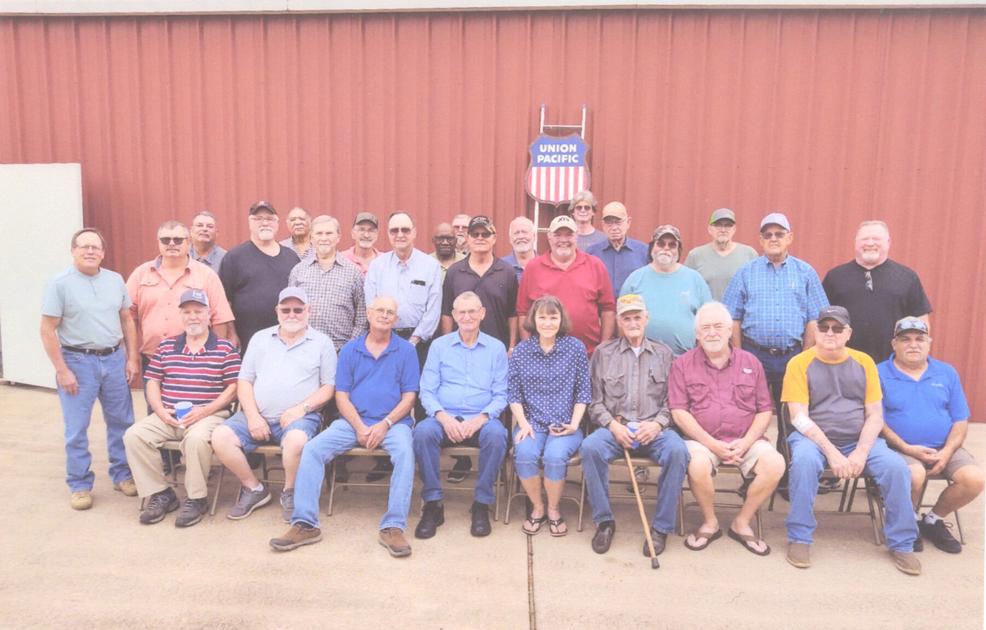 COURTESY PHOTOS
Working together can develop a deep camaraderie among colleagues and this is the case for many employees who have worked for Union Pacific Railroad in Palestine.
After working together 40 hours a week, some for four or five decades, many miss their work friends and like to see each other now that they have retired or changed jobs.
About four years ago, Rickey Naismith and Wayne Stewart, former UP employees, started meeting once a month to hang out, have lunch and talk about their years on the railroad.
Over time, other retired employees began to join, averaging around 12 members per meeting.
"It turned into something pretty neat," Naismith said. "I look forward to this."
The group now meets every two months at Harcat and Lou's in Elkhart and once a year Naismith and his wife welcome the group to their home, providing the meal for the meeting.
Naismith has worked for Union Pacific for 38 years, holding various positions including the auto shop, working day in and day out with many of those who come to the monthly meetings.
"They are like family," Naismith said. "We have a lot of good memories. I have worked with very good people. You needed a refrigerator moved after work, and they would come and help you. We went hunting and fishing together, we even organized fishing tournaments. Lots of good fellowship.
A hot topic for the group has been the current situation with Union Pacific and the city of Palestine.
"We are monitoring everything that is going on and praying for the best for the employees," said Naismith.
Naismith wants all former employees to know that they are welcome to join the group.
"It's a lot of fun," Naismith said. "We're not pushing it where it's bossy or you need to be there. Come if you can or catch us next time.
The next meeting is scheduled for Thursday September 16. Harcat & Lou's Diner is located at 102 W Parker St. in Elkhart.